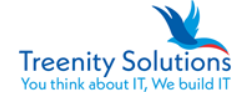 Senior Security Consultant - Treenity Solutions
Brussels, Brussels 1070
Senior Security Consultant
Treenity Solutions; IT Services providers with a proven expertise in Software development in IT leading technologies (Microsoft, Java and Oracle) and mobile/web domains.
Since 2010, we provide services and provision resources in Belgium, France and Luxembourg.
Our main activities
Software development, Requirements Analysis and Project Management
Architecture and Design (Service Oriented Architecture)
Business Intelligence Solutions and Resources
SharePoint and other leading CMS integration
Expertise in JEE, Microsoft .NET, SharePoint, Oracle, BI, SAP, Infrastructure, Security.
We deliver projects in Times & Materials and Fixed Price mode.
Our customers
We deliver services to various clients from the private sector (leading banking, insurance and manufacturing) companies and public (European Commission, Parliament, Council and National institution in France and Belgium)
Context
At TREENITY SOLUTIONS, we are seeking for a Senior Security Consultant profile to be assigned to long time missions involving maintenance and new projects.
Your profile
You are an experienced Senior Security Engineer with a minimum experience of 4 yearson complex projects.
You are have a relevant experience and expertise in Security products (firewall, proxy, anti-virus, anti-spam, DDOS, …).
Product knowledge in one or more of the following areas is preferable: Fortinet, Cisco Security, FireEye, Palo Alto, Checkpoint, Bluecoat & F5
Additional expertise in End Point Security solutions as Trendmicro), and / or Identity and Access Management as Cyberark is a plus.
You are fluent in Dutch, French and English (oral and written)
You are flexible and have an appetite for challenges.
Our promise
A permanent contract as a consultant in a fast growing SME. Treenity Solutions uses a flat matrix-type organizational structure that focuses on proximity of Senior Management with technical staff.
Attractive salary packages including a group insurance (life insurance and death cover), a comprehensive hospitalisation insurance, meal and gift vouchers and other allowance and benefits depending on your job, we may also supply a company car and/or a laptop.
Interested
Please send your CV to the attention of Ms. Aleksandra Tyszka at: job@treenitysolutions.com or call us +3225602146
Parking
Congés maternité / paternité
Réduction sur les forfaits téléphoniques
Prime de transport
Congés payés
Événements employés
Congés payés
Véhicule de fonction
Télé-travail
Mutuelle
Développement professionnel